Happy 2016!! I hope you all had a most wonderful New Year's Eve
welcoming in the New Year.
I have no resolutions this year.
Why?
Maybe it is because my goal for this year is to enjoy each day, each moment
one day at a time, one moment at a time.
The "Que Sera, Sera" attitude . . . to be happy that I woke up and saw the sun
and ended the day with a goodnight kiss.
For today, I will reflect back on my favorite projects of 2015.
Because this project was for my "sweetie", it was my favorite.
Truly a labor of love project.
In 2015, my goal was to add more shades of blue to the house.
Added many blue accents to the great room,
especially the combination of blue and white.
As seen in the Fall Mantel post.
More blue and white added to the kitchen and dining room.
I added these antique French enamelware canisters to the kitchen
that I purchased from my friend Mary Alice.
Pops of blue here and there in the dining room.
In the hutch, I replaced the china for the ironstone collection that I acquired these past couple of years.
Did you notice the magazines in the bowl on the hutch?
That was another highlight for me in 2015!!!
Our home was in French Country Style magazine…..it certainly was a thrill for me!
The cover is not my home, but the home of our dear friends
who live on St. Simons Island, Georgia in a gorgeous French Country home.
Talk about two old friends squealing over the phone when she got the cover.
2015 was a year of antiquing and estate sales.
This was the view at one of the estate sales . . . pretty incredible, right?
My hubby had the van, so I loaded up my convertible.
Where there's a will, there is a way!!
I found one of my favorite ironstone pieces, for a great, great deal
at another estate sale this year.
This wonderful ironstone foot bath.
It is proudly displayed on my French antique buffet.
I created a few tablescapes this past year.
The summer tablescape of lemons and daisies is probably my favorite.
I also coordinated the tablescape with the sunroom of citrus and blues.
Another one of my favorite makeovers in 2015 is the Guest Room Makeover.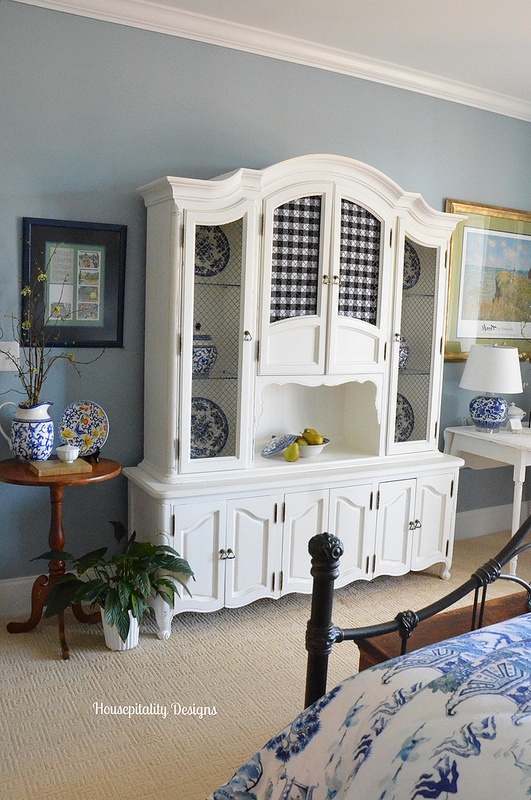 Since the makeover reveal, I have made a few changes,
like changing out the blanket chest for this vintage chippy bench.
One of my very favorite decorating things to do is to create
a vignette. I must create a new one at least once a week.
I especially loved how the vintage fall vignette turned out this year.
Gathering many different vintage items and adding great textures and colors
made this truly one of my favorites.
Another one of my favorites was my Winter Vignette of Soft glows for the coffee table.
Using lighted pine trees in ironstone footed tureens, luminara candles,
and my treasured partridges.
Oh, and then there are the vignettes in the Country Christmas Sunroom.
I know I mentioned that I have no resolutions or very specific projects in mind
for this year. My "Que Sera Sera" attitude.
However, I do have a couple of definite things that are on my list.
One of them is to really make an effort to de-clutter and organize.
Paying much attention to a book that I have been reading,
"The Life Changing Magic of Tiding Up" . . . but I do have a resident "tidy upper"
and organizer.
His garage organization has always been my number one visited post . . . go figure!
And plan to spend more time with family and friends which include my fun fellow bloggers.
To coordinate more get togethers, like this Bloggers Brunch.
So here's to another great year filled with lots of activities, projects, travel
and being with precious family and friends near and far.
HAPPY NEW YEAR!!!
I also want to thank my wonderful readers for your support.
I so appreciate your friendship!!!