Adding softness, pretty texture and pattern to the Master Bath
was on my mind for quite some time.
One way to do that would be to add some pretty drapes
if you have a large window in your bathroom.
I have a large window; however, I have sconces flanking that window
which makes adding drapes a problem.
So what did I do? I added drapes to the shower doors!
I purchased more of the blue and white buffalo check fabric (3 1/12 yards)
that I had made into pillows previously and with my trusty Stitch Witchery
I made two panels by cutting the fabric in half lengthwise
and shirred them on a tension rod.
I have experienced that when shirring heavy fabric on a tension rod,
the fabric sometimes moves on the rod.
So I took some ribbon and tied it on the rod putting several knots in it and tied into a bow.
The knots creates a barrier that makes the fabric stay in place.
Accessories were re-arranged and added.
Plant stands were brought into the Master Bath
that were originally in the dining room.
I found these pretty blue and white planters at a local garden shop
and the plants fit perfectly.
The buffalo check pillow made from the same fabric
as the shower door drapes.
I previously stated that I did add some items to the master bathroom.
Can you see it?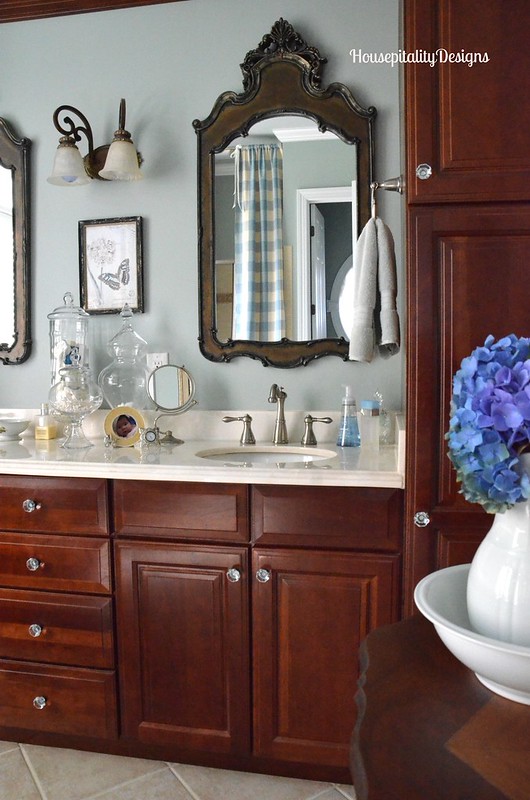 This beautiful ironstone bowl and pitcher that I got on one of my summer travels.
I loved the pretty shape of the pitcher and the narrow bowl.
My large hydrangea bush is filled with hydrangeas of so many different colors
as the blooms turn from pink to deep purple, to various shades of green.
When the panels went up, they immediately added great softness and warmth
to the master bath. Not to mention, that I love the pattern it added too.
The panels added to each side of the shower door
truly made a pretty difference in the Master Bath.
The major difference it made was that it took one side of the Master Bath
that was lacking in appearance as it was pretty much a wall of glass
and made it another great focal point in the room.
Hope you had a great and safe 4th.
We attended a couple of BBQ's this past weekend including my son's first one in his new home.
It was a great day!
Speaking of a great day ….. hope yours is too!