Hi…I'm Shirley with Housepitality Designs…and WELCOME TO MY HOME!!!
Welcome to my home!
The front porch last Fall. . . I chose this photo as it was so colorful . . .
~ ~ and love that time of year.
And now for this Fall . . . what it looks like now.
And this is what the corner of the porch looked like in the Spring.
And here is the view of the back of my home:
It is quite different from the front view.
I actually have three porches . . .
My potting bench area around the corner of the lower back porch.
UPPER BACK PORCH
This little upper porch is the porch I use the most.
~ ~ A cozy place to watch the sunrise with a great cup of coffee!
When you enter my home you will first see this . . .
This antique French buffet has to be one of my very favorite pieces in my home . .
~ ~ I purchased it in France while on a "tour with bloggers"
The foyer flows into the great room . .
THE GREAT ROOM
And now moving over to my favorite room in the house.
THE SUNROOM
THE DINING ROOM
THE KITCHEN
The kitchen is just steps away from the dining room and sunroom
And if the grocery store ever runs out of shopping carts . . .
~ ~ I have a spare!!
THE MASTER BEDROOM
THE MASTER BATH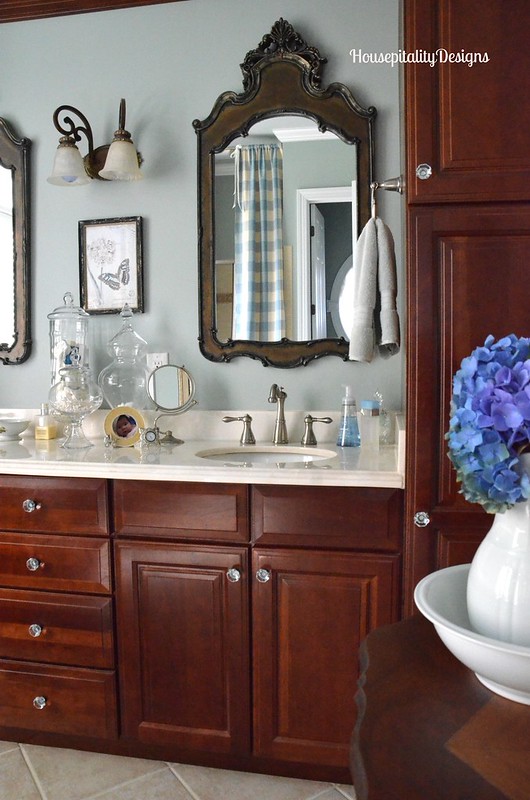 THE GUEST ROOM
A French Country hutch with drawers for guests clothes and a TV hidden behind the doors.
The Guest Bath is actually a part of the guest room…and ensuite
So convenient and private for our guests.
The enamel pitcher another treasure I brought back from France.
Behind the chair is a jetted garden tub . . .
~ ~ perfect for the ball players after a rough game.
THE MEDIA ROOM
This is an "anything goes room" with the style, filling it with what we love.
The little "retro kitchenette" on the other side of the media room.
~ ~ a great little eating area and space for popping corn for movies.
The craft room area . . located in one of the "bedrooms" . .
And on the other side of the room. . a sneek peek into a space. . .
~ ~ that I am creating for my granddaughter . . upon her request . . her wish is my command!
Laundry Room:
I love to fill this room with vintage laundry items . .
~ ~ and this is definitely a place for the orphan socks.
It is not a large room . . . a bank of cabinets on two sides . .
The opposite side of the room . . . although a small space, I have adequate room . . .
~ ~ for washing, fluffing and folding.
The "man cave" aka, the Bonus Room. . . I designed the wainscoting to match the pool table.
He actually has "three man caves" . . .
The next "cave" is behind these doors . . .
The other "man cave" . . . can you tell he has a organizational issue?
Right down to a spot for his glasses . . . ugh!!!
He has one more "man cave" . . . his office, but that is for another day. . .
~ ~ along with the powder room that is undergoing a little makeover.